Citizen Star - This Week in Star Citizen - 2015-05-02
(Citizen Star News) - by Citizen Ed - 2015-05-02 

This week's Community Citizen Star focus is on our friends at TheBase. They've been broadcasting as a Star Citizen focused internet radio station 24/7/365 for well over a year now. Recently leveraged their music license with SOCAN into a deal with Twitch.TV to do a 24 hour stream there too. With music, giveaways, broadcasts of podcasts. Big props to Ricko, Rellim and the crew over there. They've also had me on a few times and rebroadcast this show regularly as part of their rotation. Happy to be able to work with such a great group of guys.
Citizen Star Teller Pics from /r/MobiGlas




Congrats to CIG for breaking $80 Million dollars in crowdfunding! (81 now even.)
The Hull Truth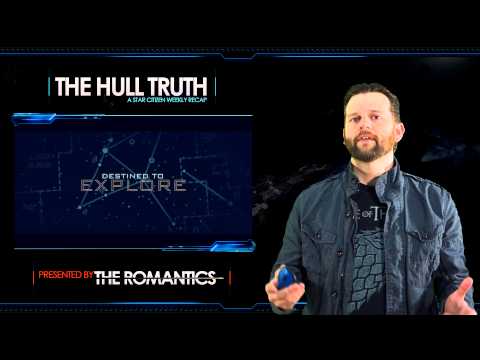 A nod to Wes of Romanticorp who used to run a YouTube Star Citizen news show by that name, We miss you Wes! Come back to SC.
What this segment is about is the interesting approach CIG has done with this Hull series concept sale. There's been a thread in the forums where people submitted questions, and daily comm-links released with answers.
Highlights of things learned in HULL Q&A COMM-LINKS:


The Hull-B comm-link from Tues revised all the Cargo Sizes for all the ships including the Hull Series! A new record for specs being made obsolete in the space of a few days.

Merchant Man went from carrying less than a third of a Hull-C to slightly more. Freelancer to well above a Hull A.

While smaller cargo boxes are pictured throughout the promotional images, the Hull series will be able to carry any type of container that 'fits' in the space allotted.




Spacecraft can be broken down into their component parts for transport, or carried in their completed forms aboard larger Hulls. There is also a 'midget fighter attachment' being developed for the Hull E which will allow it to drop and recover escort fighters in exchange for cargo space.




We're aware that the 'spindle' looks like the weak point of the Hull series, but do not intend for this to carry over into the game mechanics. The cargo containers will be fully shielded and will themselves have an armor value; those that wish for additional protection can use containers that trade armor for space.


"How are you planning to land the Hull B fully loaded?" Very carefully! We are in the process of updating the landing gear design for the Hull B so that it can land with the lower cargo slot filled.


The spindle arms can be unfolded individually depending on the task at hand.

Regarding the central strut, they're still working out the details, but it should be large enough to walk through on the Hull D and E, and large enough to crawl through (similar to the Jeffrey's Tubes on Star Trek) on the Hull C. In all of these ships, it will be advantageous for an engineer to be able to reach the drive unit on occasion.


The Hull C Discreet (and military variant of the Hull-D) is still in the cards for the finished game! It will include specialized containers to support it's 'Q-ship' purpose.

You can solo even the larger ships. Additional crew members will run the turret, navigation, scanners, repair team or whatever the captain assigns them through the multi-crew seat system. One thing to remember is that we build our ships as they should 'work' in the game, even if some of that isn't as exciting for gameplay. In the Star Citizen universe, it makes sense for larger transports to have crews that 'trade off' the pilot seat during long-duration runs.
Tutorial Previews
In 1.1.2 PTU build are getting rave reviews…
...although that is not a barrel roll:


CIG Staffing
Alyssa Delhotal hired this week according to Lisa Ohanian
Official facebook intro:

"Today we have a new member joining us in the Cloud Imperium, Alyssa Delhotal. Alyssa joins us from Activision Publishing, where she worked on 6 iterations of Call of Duty, 4 iterations of Skylanders and a ton of other games. Alyssa will be our new Associate Marketing Producer in the Santa Monica studio. She will be focused primarily coordinating between the marketing team, devs and community. Welcome Alyssa!"
We got a chance to meet her on RtV. She said she'd soon have a metric "f-ton" of news to share. When Lisa jumped ship at activision Alyssa begged, "Take me with you" and the rest is history.


"We've got another new hire to announce! Ahmed El Sayed will be our new DevOps Engineer in the Austin studio. He will be focused primarily on Infrastructure automation, provisioning, and configuration management. Welcome Ahmed to the CIG Team!"
Daniel Ben Zenou (REEL) Tweeted from the set of Squadron 42:




The actor has credits from Law & Order UK, Skins, Strike Back

Interviews:

Meet the Devs: Animation Director Steve Bender

Atv - John Schimmel (Head of Linear Content, talking about Squadron 42),

Dan Tracy on the Hulls
Extended version:


and new segment Ship Shape w/ Lisa Ohanian (Showed off the P-52 snubfighter that comes with the constellation. Looking very good.)
DevPosts and Comments - What you may have missed
Gratz to the guys on the great mashup of Hitchhikers guide and Star Citizen this week on Around the Verse
From RtV: Bugsmashers is not gone, but will be broken into its own show released on Wednesdays.
Todd Papy is determining what the next Deep Dive Design post will be.
Interview with John Schimmel (aka Mark Twain according to Ben) coming next week. He'll talk about what it's like to live with Chris Roberts.
Reverse the 'Verse was moved to Friday, so they can answer questions about Around the 'Verse, once everyone's had a chance to watch it.
There will be an episode of Wonderful World of Star Citizen this month.
Space toilet paper stays dry at all times. It's actually a sponge. There is no toilet "paper" in the future.
Working on a post about FPS to talk about all the things being done to make FPX cooler, Travis is wrangling assets, coming early next week.
Starfarer - Soon, without the ™
Rene Vasquez - Tech Designer working on Pirate Swarm (Soon™). Also working on balance.
Travis says CIG is working on optimizations of game state for the hangar, so they don't have to spawn and hide ships below the hangar deck for them to be usable by you in Arena Commander. Travis AtV
Wingman Commands. - Travis AtV
Star Map is being worked on - Will see soonish - CIG Austin AtV
A new 1.1.2 build was placed on the PTU Fri may 1.
New website design is having a few problems with iPad and IPhones which will be fixed soon according to Scott at Turbulent.
The Fan Art and Fan Fiction Child forum was split in two this week.
Squadron 42 Motion capture sounds like it is going swimmingly.  Chris, John Schimmel, Dave Haddock and the cinematic director (Hannes Appel?) all have a place together in the UK. Treating it as much like a Feature Film as possible.
And that's all the news for Citizen Star this week! Hope to see you next week … in Star Citizen
See Also